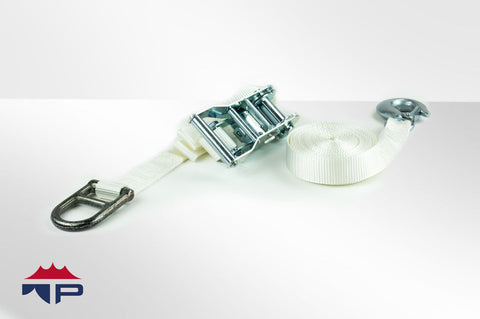 1" Inline Ratchet w/10' Web Guy
1" wide mechanical tie-down ratchet system with single anchoring yoke. Loose 10' long webbing end is constructed of high tensile polyester webbing and sewn to a 1" Snap Hook. The long handle ratchet mechanism is sewn to a single yoke polyester webbing and finished with a double bar D-ring. The single yoke system allows this tensioner to be used on a single stake and also under a stake bar. The operational length for this strap is intended to be anywhere from 6' to 12'. The assembly has a breaking strength of 3,000lbs and a working load limit of 1,000lbs.
Product Lifecycle Information: Although we use high quality thread and webbing for all of our sewn web components, ultraviolet light from the sun will slowly breakdown these fibers over time. Chemicals, cleaners, or other products should not be used on webbing tie-down components as its use might accelerate this aging process. Damaged, abraded, cut, or frayed straps should never be used.

Additionally, these straps should never be used for other tie-down applications other than  for their intended purpose (i.e. securing equipment on a pallet, truck, or trailer). Seasonal installations should replace tie-down straps annually or sooner if any damage is noted. Other straps used in short term applications should be tested periodically to assure that they meet the intended working load for their design. Straps shall expire 5 years from the date of their manufacture (noted on the item tag) and shall not be used.
SKU: Z39900280
---
---
We Also Recommend